Introduction
Submitted by Daryle on Tue, 03/27/2012 - 14:40
To date, a number of surveys have been completed on the types of information and content people are interested in accessing through the Internet. An Angus Reid poll published in February, 1995 shows that most people expressed "great interest" in educational programs and banking. Approximately a third of those surveyed listed "tax filing, news, community information, video on demand, show tickets and information and classified advertising" as electronic highway offerings in which they would show "great interest." Less than a quarter of respondents found software buying, travel planning, Unemployment Insurance, investing, local or long-distance shopping, sports tickets, real estate or video games as showing great interest.[2]
A MacWorld Poll from October 1994 showed "high or very high" interest in participatory and educational activities such as "vote in elections" (50%) "search reference tools" (47%), "distance learning" (38%), "obtain local school information" (38%), "search card catalogs" (37%), "participate in opinion polls" (33%), "obtain tax/credit data" (31%), "participate in electronic town hall" (30%), "obtain government information" (30%), "video-on-demand" (28%), and "search magazines/newspapers" (27%), When those with moderate interest in these categories are included, it is only these categories which have interest greater than 50%. Near the bottom of the list are gambling, video dating, sports activities, role playing games, and local event or marketing information.[3]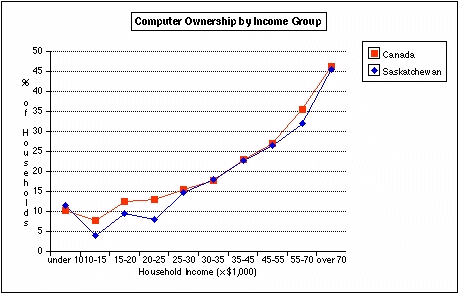 Statistics Canada figures on the percentage of national and Saskatchewan households owning computers by household income groupings. The relative interest shown by people in part reflects the interests of people in general. But it also reflects some other significant signals. People are not interested in seeing the "information highway" become a marketing tool or electronic mall. They are also strongly interested in using their computers and modems for educational programs, community information and a return to participatory government and action.
The question of what types of content people want to access on the "information highway" is predicated on the question of whether they can access it. The percentage of people who have computers and modems is still in the minority although it is rising. The demographics of these households is also worthy of examination.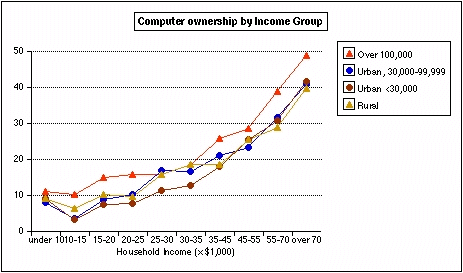 Statistics Canada figures on the percentage of national households owning computers by household income groupings and population settings. Statistics Canada figures from 1994 reveal that nationally 25% of households have home computers.[4] In Saskatchewan, this percentage drops to 21.1. When stratified by income groups, As Figure 1 shows, differences in home computer ownership in Saskatchewan when measured against income strata is more marked than across Canada as a whole, However, computers are no longer a luxury good affordable only to upper income households. Rather they are found in varying degrees in homes at all income levels. A more marked difference can be found when homes in different urban settings are compared. As Figure 2 demonstrates, urban homes nation-wide are much more likely to have computers than those in rural areas. 28% of households in urban areas with populations exceeding 100,000 people have computers. In contrast, only 19% of homes in urban areas under 30,000 people have computers. Rural areas average 20.4%. As well, single family homes with one or more children are more likely to have computers than households inhabited by childless couples or single adults.
The entire topic of computer penetration within society is a rapidly advancing and dynamic field of inquiry. Some estimates put the growth in the personal computer sales market at about 20% annually[5]. The current study is an attempt both to update findings and to broaden the ffocus and perspective of this area of discussion.
---
[2]Globe and Mail, February 6, 1995, p. B3.
[3]MacWorld, October 1994. p. 99.
[4]References are from Household Facilities by Income and Other Characteristics, 1994. #13-218. Published by the Ministry of Industry, Science and Technology, Ottawa.
[5]The Financial Post, Thursday, October 5, 1995, p. 12.