Purchase Response Class Diagram
Submitted by Daryle on Fri, 03/23/2012 - 13:01
The Purchase Response Class diagram is indicative of a general group of class diagrams where a merchant seeks to query the acquirer's database concerning the status of a transaction. In some cases, these queries will be for a single transaction and in other cases, the query will seek an aggregate value such as the net or gross value of all purchases processed within a given period.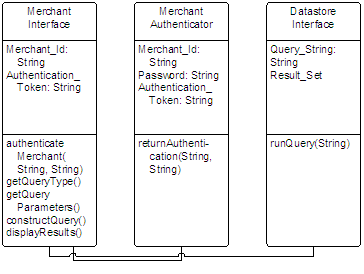 In all these cases, the class structure is comparable: a merchant points a browser to an SSL encrypted URL and logs onto the acquirer system with a username (or merchant id) and password. The Merchant Interface sends this data to the Merchant Authenticator for validation and upon a successful response, sends a cookie back to the merchant's browser with a time-limited authentication token. This token is also stored by the acquirer system. As long as the two tokens match and the token has not expired, the merchant is deemed to be authenticated for all future connections. The token is also "freshened" with a new expiry date after every HTTP exchange.
With an authenticated session, the Merchant Interface will construct a query and send it to the Datastore Interface. The Datastore Interface will then run the query against the backend database and return the results.
It is important to note that the Datastore Interface must be protected from the end-user. Without this protection, there is a danger that the end-user could run a custom query against the database returning data that does not belong to the originating merchant.